Yarmulke wearing chickadee flit and flutter for peanut butter suet, even though it's not kosher.  Polka dot woodpecker screech, when the basket is empty; they bang their head for bugs. Also a favorite of their prehistoric looking relative, the pileated woodpecker. Carpenter ants are this bongo playing bad boyz favorite food.
The purple finch, New Hampshire state bird, is actually the color of raspberries. Its bouncy lemon drop cousin turns brown in the winter. Cardinals sometimes charge windows, mistaking their reflection for a competitor. They're named after the men, wearing red robes, in the Roman Catholic church. Serve as proud mascot of seven states.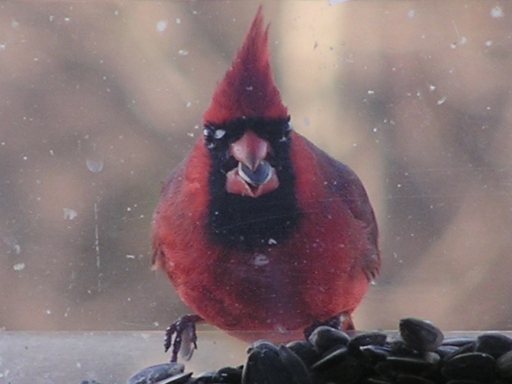 The humble house wren, like the nun, is known for her jumbled scolding. And no matter what you've been told, the jay, blue zorro, wearing a reverse fedora, rarely eats eggs and nestlings. They're vegan.
Even though the bluebird raises four brood a year, you rarely see them. Their numbers have declined seventy percent since 1970. The blackbirds song sounds otherworldly, like the cicada. It also lives in Japan and Africa.
Birds were on the earth one hundred and fifty million years before we got here. Some say the house of hearing is the first sense to activate, and the last to go when we die. I wonder if birds sang us to self-awareness?
Red tail hawk are monogamous and they mate for life. Man is the only singing primate. The early bird robin gets the worm, and cheer up, cheer up, cheerily sings its song at dawn.
Crows can be found all over the world. They make tools from leaves, mock my dog, and caw, caw, call out the owl's secret hiding place. Chase the wise wizard, whos wings slice silently through the woods. Solitary Raven, ancient as onyx, speaks several languages. The old shaman stirs the compost heap seeking sustenance.
Tiny titmouse twitter through dry leaves and sand. Quiet as field mice, you don't know they're there until something stirs their silent foraging and they burst, like a confetti cannon! Birds don't have teeth, they swallow their food whole. Dove cooing their mournful chants remind me to pray.
Hummingbirds' wings beat fifty-three times a second. They use their beak like a sabre, tiny fencers fly upside down and backward. They double their weight to make the long journey to Mexico where they winter. And they kiss every flower they see.